Vive les Fleurs! Get the Most from Your Cut Dahlias
After 13 years online, Cubits.org is scheduled to be shut down. Please make sure you have the contact information for all your friends, and that you download whatever content you want from this site.
By Annie P (Poochella) on June 20, 2010
Dahlias are dazzling in the landscape, but they are absolutely divine as attention-getters in a vase. Learn some easy tips to get the best performance from your cut dahlias here.

The magnificence of the dahlia truly emerges as a cut flower. Their early to mid-summer arrival extends until frost and is most welcome when other floral splendors in the garden are long gone or waning. A cheerful bouquet of brightly colored dahlias, the awe-inspiring single giant bloom, or a peaceful pot of pastels are equally enchanting. Getting the best quality dahlia for arrangements starts with the plant itself, and continues with some basic cutting and preservation practices. Learn some easy tactics to bring the bountiful harvest of your dahlias indoors.

1. Choose a good dahlia for cutting-cut blooms not quite fully open

2. Groom the plant- set it up to produce more flowers, and better flowers

3. Hydrate the plant- 6 hours travel time from root to bloom

4. Cut in the coolest hours of the day- early morning or cool evening
5. Cut into hot water in a clean container or vase
6. Cut above or below a leaf node, at a 45º angle
7. Use a floral preservative in the vase or cutting solution

8. Keep cut flowers out of direct sunlight, keep cool as possible

NOT ALL DAHLIAS ARE CREATED EQUAL: CHOOSE A GOOD VARIETY There are vast differences in quality and quantity of blooms from variety to variety. The Dahlia Scoop Database is presented not only to categorize dahlias, but includes cutting traits such as stem quality, and floriferousness of each dahlia. If having exceptional cut flowers is a goal, it makes sense to start with known productive plants with stems that endure, though much of the fun to try new varieties each year! Dahlias will perform differently across regions and with various growing conditions, but the general traits of each cultivar hold true. Take advantage of a known thing and research your choices for cutting dahlias before growing them.
GROOMING THE PLANT FROM THE OUTSET- TOPPING
Flowers are formed on the end of each branch, or lateral, emerging from the main stalk/s of a dahlia plant. Allowing only one or two stalks to grow will yield a more controllable plant and better flowers. To encourage more laterals and a fuller bush, begin with TOPPING each plant. Topping is merely snapping off the upper growth tip of a young dahlia to force the laterals to grow. More laterals, more flowers! Do this when there are 3-4 full leaf sets formed on the plant, (usually 10-15" in height, but it varies.) An untopped plant will grow well enough, but will be lankier and more sparse in flower production. Topping will not shorten a plant destined to be four feet tall. It redirects plant energy to grow outward and then upward, producing more blooms along the way.
DEADHEAD OLD BLOOMS Like other plants, if you let your dahlias age and go to seed on the plant, it has no need to set more flowers. Cut off old or aging blooms to encourage more, more more!

DISBUDDING Why? To get the most out of each flower and a longer stem. Buds form at the end of each lateral or branch. A central or main bud will form along with two or more inferior buds at its side or staggered down the stalk. By simply snapping or scraping off the inferior buds, you allow the plant to devote more energy into development of the main flower. Buds can be scraped off with a nail in a split second. This is best done in the cooler mornings or evenings when the plant tissue is most rigid. The payoff in quality of flower and length of stem* is well worth this small effort.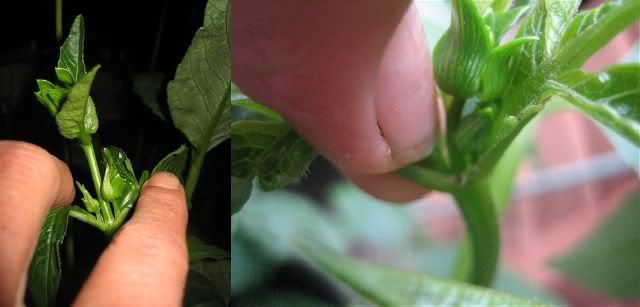 *For even longer stems, scrape off the next set of laterals emerging below the buds as well, but this isn't necessary and you'll be eliminating those two branches of future blooms.
Hydrating: A well-watered plant will give you better kept cut flowers It is said that it takes water entering the roots of a dahlia six hours to travel to the blooms. To get the most naturally hydrated flowers, it makes sense to water the morning of, or evening before, you plan to cut flowers when they will be at their natural best. To optimize that natural hydration, cut dahlias when the plant is coolest: early morning or evening hours will yield the best results.
Along the way: protect dahlias from bloom-busting bugs and deadhead spent flowers to encourage more to form.

Early on, slugs and cutworms will be the young dahlia plant's biggest enemies. Later, dahlia blooms can be ruined by thrips, leaving small stains or holes in petals; earwigs dining on edges and insides of petals, and caterpillars can ravage an otherwise beautiful flower overnight. There are other dahlia enemies: Japanese and cucumber beetles, the occasional slug. Protect your dahlias from these enemies using methods of your choice.
Sluggo Plus is a great OMRI qualified slug and earwig control product that is not toxic to pets. Dropping earwigs into a bucket of soapy water will dispatch them, if you're crafty enough to catch them! Try rolled up, dampened newspaper placed in the garden and check each morning for those earwigs clamboring to go for a swim. Relocate or dispatch the caterpillars. They're so pretty, but the damage they can do is frightful.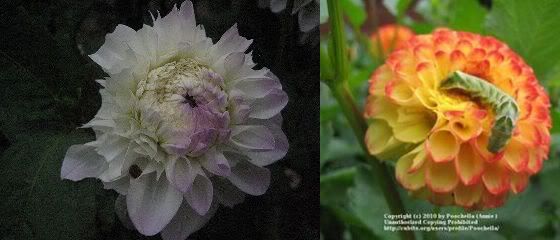 Cut into a clean bucket or vase of hot water

Bacteria are the enemy of cut flowers. Start with a clean vase or bucket washed in hot soapy water with bleach added; rinse well. Using a sharp floral or pruning shears, cut your dahlia stems at a 45º angle above or below a leaf node, never through it. This allows for best water uptake through the severed stem and that water will help maintain the bloom. Cut flowers and place into hot water immediately as you cut. You can use hot tap water, but the hotter, the better. 160º is not too hot. This helps set the colors and petals on the bloom for longevity in a vase. I use a holding solution in the cutting buckets to prevent the flowers from opening too fast.
Use of a floral preservative is wise to keep bacteria at a minimum, and to provide carbohydrates for the flower, now severed from those naturally provided by the plant. There are various recipes for homemade floral solutions online, or purchase a commercial floral preservative solution following package directions. Once cut, place your bucket of blooms in a dark, cool place to rest for at least two hours, then arrange or use as desired.
If you follow these basic techniques of growing, grooming, and cutting your dahlias you will have optimal blooms to enjoy. Some varieties will last longer than others, but regardless of their treatment, most begin to look a bit fatigued after 5-6 days. Try setting a vase outdoors to stay cooler at night. Avoid placing in direct sun. Try recutting the bottom inch of stems and replacing in a fresh vaseful of water and replenished preservative. The ultimate solution is to grow more dahlias and cut them often!
Vive les Fleures!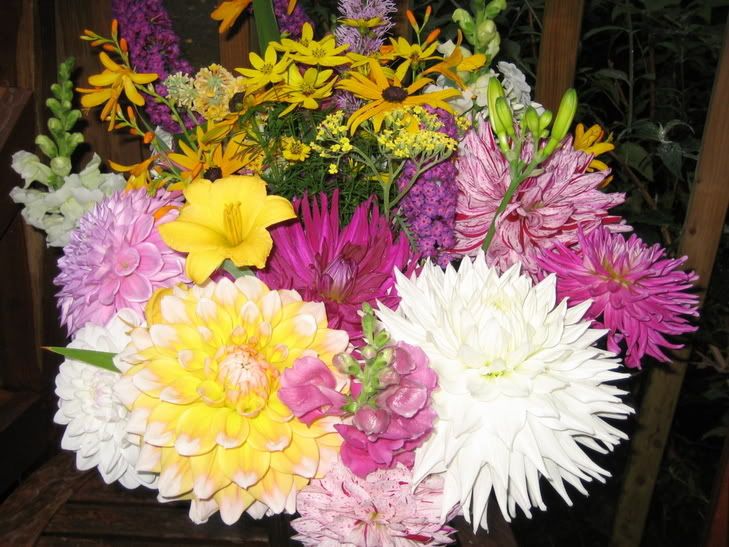 About Annie P
After growing hundreds of dahlias for 16 years, I will publish much of what I learn and cherish about these beauties and their care here. My own emphasis is on cut dahlias for the floral industry. I sell the blooms to support this hobby-gone-wild, but also share the many eye-popping flowers for friends to enjoy. I do not show dahlias for judging, as I somehow find such scrutiny insulting to otherwise perfectly gorgeous blooms! Sorry. It's not my thing.

With very little know-how and a bit of spare time, you too can enjoy the best from your dahlias whether for personal enjoyment, sharing, selling, or showing. There's no time like now to get started with dahlias!
Comments and discussion:

| Subject | Thread Starter | Last Reply | Replies |
| --- | --- | --- | --- |
| brava! | dahlianut | Jun 29, 2010 7:13 PM | 1 |
| Great Article! | nap | Jun 24, 2010 11:28 AM | 20 |