General Needs for Growing Dahlias
After 13 years online, Cubits.org is scheduled to be shut down. Please make sure you have the contact information for all your friends, and that you download whatever content you want from this site.
By Annie P (Poochella) on June 7, 2010
Do you have what it takes to grow dahlias? With this general information, you will find the dahlia is easy to raise, if some basic conditions are met. Once successful, the question then becomes which of the 50,000 available to try! That's an entirely different subject. So what do dahlias need to grow?
Sunny space with well-drained, slightly acidic soil with ample water during hot summer months. A minimum of 5 hours of sun to full sun will do in most cases.. In hot, sunny climates morning sun should suffice to avoid the harsh afternoon sun. A fertilizer low in nitrogen, suitable for vegetables or tomatoes, also suits a dahlia. A recommended ratio of NPK for dahlias is 1-2-2. Aim for 5-10-10, 10-20-20 or similar formulation.
Limited space or only a sunny deck or patio? Many full size dahlias can be grown in larger pots. Because the pot is exposed to more heat and wind, watering frequency is increased even with the use of soil polymers.

Control of garden enemies be they bugs, slugs, deer or diseases. Young dahlia plants are an all-you-can-eat buffet to hungry slugs. Early and ongoing application of slug control methods are advised. Rabbits will nibble on younger plants and can be repelled by various products like Liquid Fence. Caterpillars, earwigs, occasionally the daredevilish high-climbing slugs will destroy blooms. Control of them is strongly advised. Reports of deer marauding their way through a dahlia bed are seen occasionally, but they've never dared to be so stupid here. Though deer are present, they much prefer destroying perennials and berries! They are very wise animals.
Deer and rabbit repellent sprays will clear out one's sinuses during application, then fade to deter only the deer and rabbits allowing the gardener to return. Please read labels and use only pet-safe products! Avoid metaldehyde-based slug bait; go with iron phosphate pellets instead. Both are effective, but using iron phosphate will save a pet and possibly hefty vet bills. Sluggo and Sluggo Plus are staples here. There are plenty of other physical and chemical tactics for foiling the lowly garden creepy-crawlers. If you want young dahlias to mature, they'll need some protection along the way.

Stakes or nearby supports: For the taller varieties 3 feet and over, some form of support is highly recommended or your bloom-laden plants will very easily topple in wind or wet weather. They are much prettier upright than broken and lying in the dirt. Yes, stakes can be ugly, but dahlias grow fast enough to cover them in just a few weeks. A simple tying system can be used to corral and support the lateral branches on which your flowers will appear. Even a demure dahlia bloom laden with rainwater will break if not given some support against the onslought of heavy wind or rain.

Tags or labeling system It is really useful to keep track of a cultivar's ID. There is nothing more disappointing than having a garden's carefully crafted color palate invaded by a unidentified interloper cloaked in a garrish conflicting color! Still, keeping track of identification is not foolproof, but mostly managable with a tagging system.
There are many options for labels. Tubers themselves can be marked with Sharpie (on dry tubers,) or with No Blot Ink in a Pencil permanent pencil (on damp tubers.) But tubers can rot and those names will rot with them, quietly underground while the plant marches onward foiling your later identification. So do you feel lucky? Relying on underground labelling may not be the best solution.
A simple tag can be attached to the dahlia stake for quick identification. A poke-in-the-soil tag can be placed near the plant stalk, but is subject to being misplaced, hauled off by varmints, or buried. If you want the cultivar name visible during the growing season, find a tag that suits your taste and attach it to the dahlia support with a twist tie. It can travel to winter storage with the clump or divided tubers, successfully keeping correct name and dahlia united forever.

Dahlias! Started from tubers, potroots, seeds, rooted cuttings or purchased plants. Heights range from the demure 10-18" to the 6-7 foot monsters. Nine feet is my record as my plants aim for the sun and grow tall! Thankfully, most are in the average 3-4 ft range and there are many shorter varieties available for beds, borders, or use in containers.
The Colorado Dahlia Society keeps a wonderful online resource for dahlia enthusiasts called "The Big List" for locating varieties by name, along with tree dahlias, and dahlias seeds and the vendors that sell them. See Link on front page.
Cubits.org/dahlia/ has a Market Swap or Shop forum where dahlias can be found for sale, trade, or postage. Many states have dahlia associations or societies that support their activities with very reasonably priced tuber sales each spring. If you live near one, take advantage of not only the sale, but the knowledgable dahlia enthusiasts there most likely willing to help you get started. Most dahlia fans are wonderful folks!
What looks like a stick farm in spring, will be covered by plants and blooms in just a few weeks.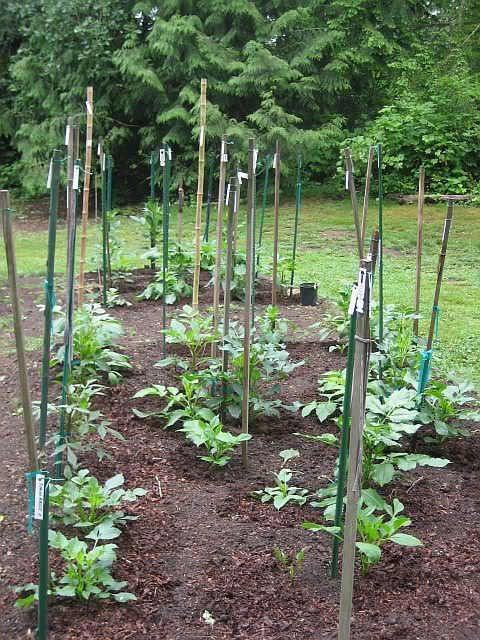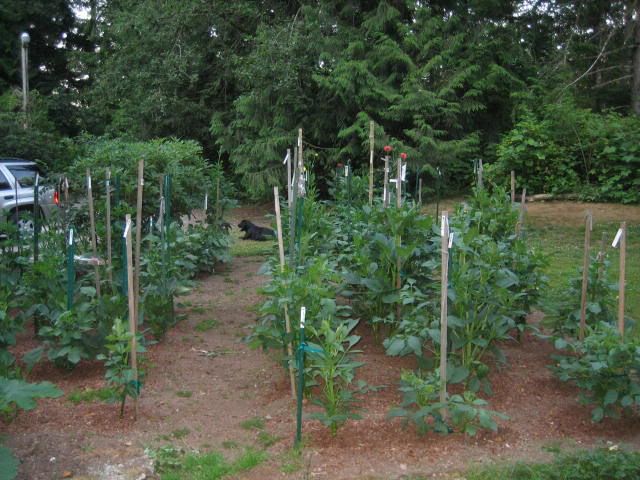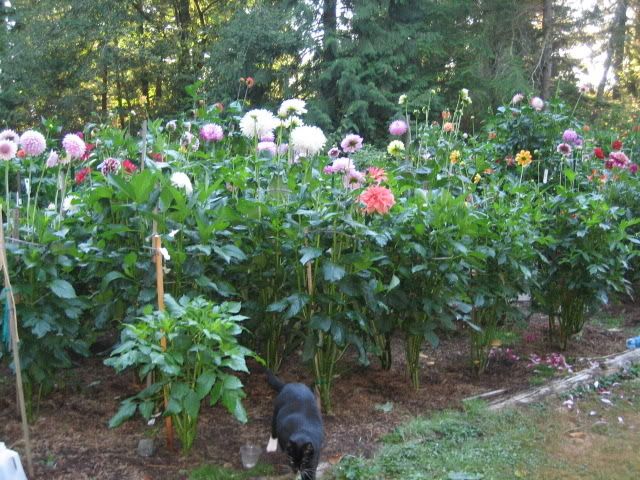 About Annie P
After growing hundreds of dahlias for 16 years, I will publish much of what I learn and cherish about these beauties and their care here. My own emphasis is on cut dahlias for the floral industry. I sell the blooms to support this hobby-gone-wild, but also share the many eye-popping flowers for friends to enjoy. I do not show dahlias for judging, as I somehow find such scrutiny insulting to otherwise perfectly gorgeous blooms! Sorry. It's not my thing.

With very little know-how and a bit of spare time, you too can enjoy the best from your dahlias whether for personal enjoyment, sharing, selling, or showing. There's no time like now to get started with dahlias!
Comments and discussion: