| | |
| --- | --- |
| SEEDS (sowing, growing & collecting) cubit | |
We are moving to All Things Plants!




Seed Starting is fun, rewarding, exciting and a great way to fill your garden with beautiful plants. If you are interested in starting seeds, come share your stories.



Wintersowing, Direct Sowing & Early Indoor Seed Starting with grow lights or the Deno (damp paper towel) method are all techniques of sowing seeds. Whether you choose to utilize shelves & lights indoors, a sunny window, hobby greenhouse or cold frame, the options are endless. Often hard to find varieties are only available in seed form. There are so many annuals that are easy to sow, such as: petunias, asters, zinnias, snapdragons, coleus, cosmos, marigolds, sunflowers, geraniums, daisies, dusty miller, lavatera, pansies, larkspur, lobelia, salpiglossis, nasturtium, impatiens and more. Biennials such as dianthus & foxgloves. Perennials: delphiniums, lupins, phlox, violas, poppies, monarda, alyssum are just a few that are easy from seed. Herbs: basil, dill, rosemary, thyme, sage, flax, lemon balm, oregano, borage, parsley, savory. Tomatoes, peppers and other common vegetables such as peas, beans, corn, potatoes, lettuce, cucumbers, spinach, beets. broccoli, carrots, pumpkins, zucchini will fill your vegetable garden.

This is a great forum to share knowledge and the passion of gardening from seed to gorgeous spaces and flowers. Look for germination tips, seedling care, preventing damp-off, soil mix recommendations, water & fertilizing tips, how-to provide specific growing conditions to help with your success. Share your experience with seed collecting and saving. Share some tips on propagation from cuttings and multiply your plants. You can fill your containers with beautiful plants from seed for a fraction of the cost.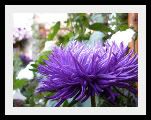 Pavlova Dark Blue Aster
only by seed



We have moved to http://www.allthingsplants.com




There are 14 forums in this cubit:

| Forum | Who | Last Post |
| --- | --- | --- |
| GARDEN PATIO CHAT | JB | Jan 12, 2014 10:19 AM |
| PHOTOS: Garden Plants, Pets & Pals | Onewish1 | Aug 25, 2011 5:39 AM |
| BIENNIALS | hellnzn | Mar 2, 2011 8:27 PM |
| PERENNIALS | thomasjones2266 | Jan 3, 2017 2:44 PM |
| ROSES, TREES and SHRUBS | Joannabanana | Jun 28, 2011 11:48 AM |
| BULBS | Steven | Mar 22, 2011 2:40 PM |
| BIRDS, BUGS & CRITTERS-The Good, Bad & Ugly | JB | Nov 5, 2013 7:49 AM |
| Propagation- Various of Methods | Pippi21 | Jan 8, 2011 11:41 AM |
| Seed Swap | Patti1957 | Oct 24, 2012 6:26 PM |
| Gardening Tools and Gadgets | herbie43 | Feb 6, 2011 8:00 AM |
| Sources & Resources (Seeds Cubit) | kqcrna | Feb 16, 2011 8:13 PM |
| Sales & Special Gardening Events (Seeds Cubit) | kqcrna | Jan 19, 2011 4:04 PM |
| Cubits Coordinating With The SEEDS Cubit | Joannabanana | Mar 21, 2010 6:23 PM |
| Cubit Announcements (Seeds Cubit) | gardenersdetect | Aug 8, 2010 11:53 AM |
Recent Threads:

| New? | Subject | Area | Date of last post |
| --- | --- | --- | --- |
| No | It's Oct. 2016 where are current seed swappers? | PERENNIALS forum | Jan 3, 2017 2:44 PM |
| No | Welcome to the Seed Starting forum! | GARDEN PATIO CHAT forum | Jan 12, 2014 10:19 AM |
| No | Where have all the back yard birds gone? | BIRDS, BUGS & CRITTERS-The Good, Bad & Ugly forum | Nov 5, 2013 7:49 AM |
| No | Starting Camellia seeds | PERENNIALS forum | Nov 16, 2012 6:15 PM |
| No | 2012 Hog Wild Seed Swap | Seed Swap forum | Oct 24, 2012 6:26 PM |
| No | Wanted: Sempervivum, Jovibarba and other hardy succulents seed | PERENNIALS forum | Aug 22, 2012 7:55 AM |
| No | Seed Swaps are fun! | Seed Swap forum | Jan 29, 2012 3:19 PM |
| No | Split order of Bok Choy & Asian Brassicas? Nov 2011 | Seed Swap forum | Nov 23, 2011 6:51 PM |
| No | July photos | PHOTOS: Garden Plants, Pets & Pals forum | Aug 25, 2011 5:39 AM |
| No | Iris From Seeds | PERENNIALS forum | Jul 18, 2011 6:30 AM |
| No | Let's meet your Gardening Friends & Companions | PHOTOS: Garden Plants, Pets & Pals forum | Jul 9, 2011 5:58 AM |
| No | Spring 2011 | GARDEN PATIO CHAT forum | Jun 29, 2011 4:27 PM |
| No | 1st blooms for 2011 | ROSES, TREES and SHRUBS forum | Jun 28, 2011 11:48 AM |
| No | Rainy Day Photos | PHOTOS: Garden Plants, Pets & Pals forum | Jun 28, 2011 9:06 AM |
| No | Barn Swallows | BIRDS, BUGS & CRITTERS-The Good, Bad & Ugly forum | Jun 27, 2011 3:34 PM |
| No | Should Joe Pye be pinched? | PERENNIALS forum | Jun 26, 2011 3:19 PM |
| No | Mini Japanese Garden | PHOTOS: Garden Plants, Pets & Pals forum | Jun 18, 2011 5:51 PM |